Wash Dishes in Speed and Ease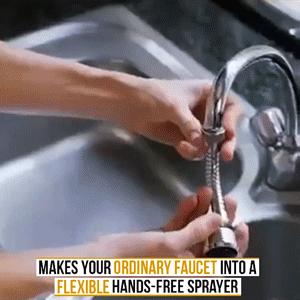 Does your faucet lack the versatility needed to quickly and effortlessly wash your food and dishes? The Tap Nozzle with Hose features a 360 degrees rotatable tap nozzle and a unique 2-mode spray function, helping you to clean your sink or wash your food effortlessly!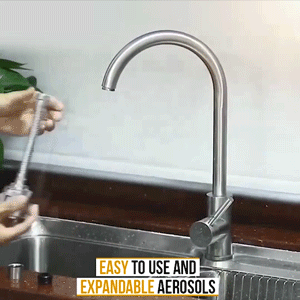 The innovative design of our Tap Nozzle with Hose allows you to move it into virtually any position, inside or outside of your sink. The reach of this faucet ranges from <2 to >5 inches. It can even save 30% of water than ordinary tap!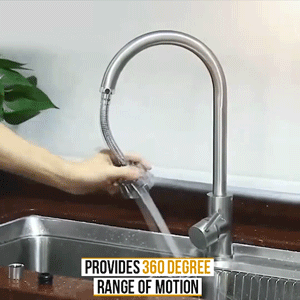 Highlights:
2 spraying modes: jet stream mode and wide spray mode, enabling you to wash dishes, food and sink in different intensities
Save water: save 30% of water than ordinary tap, which at the same time deters you from costly water bill
360 degree rotatable: allow you to tackle dirt on dishes or foods at all angles in ease
Anti-spillage: made of premium brass and chrome finish to resist corrosion and tarnishes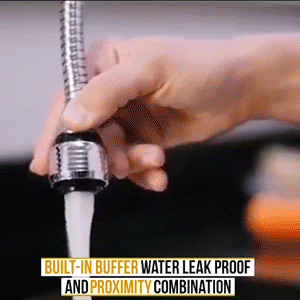 Universal to all taps excluding those with square or flat water outlets
Simply screw it.

Universal 360-Degree Flexible Faucet Sprayer Attachment, Uniform water outlet, saving water without splashing. It has an impact force and can be cleaned more cleanly. That 360° is bent arbitrarily, so you don't have to worry about the Angle. Use many times without deformation, free your hands.
❤Great for rinsing fruits and veggies, filling tall vases, shampooing hair and more.
❤Quickly connects to most standard faucets, Attaches easily without tools.
Specifications:
Color: silver
Material: copper+stainless steel+ABS
Weight: 200g
Hose Length: 7.87"
Package included:
1 x 360-degree flexible faucet sprayer attachment
1 x seal tape
1 x universal interface
1 x sealing ring
Our Guarantee: