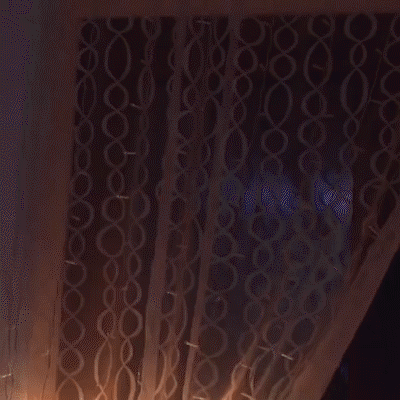 Size:All The Width :3M (9.84ft)
Length:3M/2M/1M (You can choose)
Ultra-bright:1000 lumens, bringing you the brightest, most vibrant led light strips you've ever seen.
Flicker-free LED technology:Our new innovative design eliminates any flicker giving you the best and brightest LEDs.
Plug and Play:Easy to use straight out of the box.
Light Curtains Color: Pink, Purple, Blue, Green, Warm-white, White, Orange, Red
Add high-quality curtains based on customer feedback, So you can get curtain lights exactly like the video!
The Advantages of Our Product
Cozy Warm White Light: Consists of 300 LED lights for energy saving and cool to touch. Dimmable lights are great for quiet, relaxation moods.

Easy Installation: Please do not unwrap the individual strings until you have set up the main string of lights. Lighted Length: 3M/2M/1M. Adjust distance between strings with zip tie for a double layer to fit your needs and make the lights look better.
Safety guarantee:Advanced LED bulbs and really safe 30V low voltage USB plug .The power is only 9W, which is energy saving and environmental friendly. working temperature -22°F~104°F. There will be no overheating, so there is no need to worry about accidental burns.
Specifics:
Voltage: 30V
Power consumption: 9W
Untangled overall length: 3m(9.84ft)/2m(6.56ft)/1m(3.28ft)
Quantity of strand clusters: 3
Distance between strand clusters: 27cm/0.89'
Distance between plug and controller: 1.5m
Distance between female plug and controller: 11cm
Distance between first strand cluster and male plug: 16cm
Distance between last strand cluster and the end plug: 16cm
Wide Application - WATERPROOF(IP44) perfect for indoor and outdoor decorations. Christmas, party, Valentine's Day, wedding, home, window, bathroom, Holiday, restaurant, hotel, commercial building, shopping center etc. USB power connector is not waterproof.
Remote Control & Timer Function - Wireless remote control, effective receiving range is 3M, including 8 lighting modes: Combination, Wave Flash, Alternating Flash, Breath, Chase, Slow Flash, Flash and Constant Light; 2 brightness adjustment keys (+/-), Switch keys (ON/OFF), Timer key- Once the timer is activated, the lights will automatically be on for 6 hrs and off for 18 hrs.