Enjoy A Fun Treasure Hunting With This Powerful Fishing Magnet!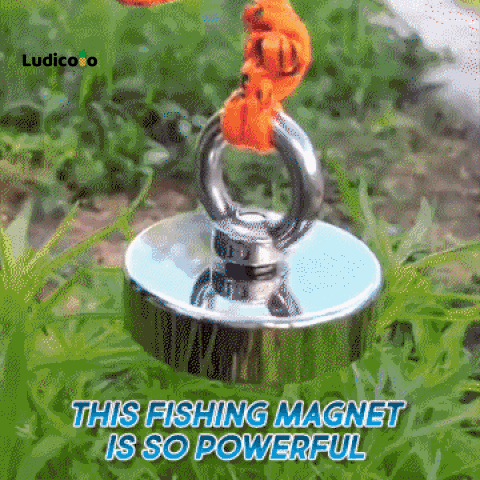 Do you like going to rivers, lakes, or beaches and have a little treasure hunting? Isn't it fascinating what surprise item you might get under nature's waters? We offer you a quick and easy way to do treasure hunting! The Deep Water Fishing Magnet is a compact and powerful fishing magnet that is an ideal tool for fishers and treasure hunters as it desires maximum performance, functionality, and productivity. 
FEATURES:
Strong And Various Uses: With a pulling force of 925lbs, (420kg), it is 

ridiculously strong, like impossibly strong

. It is great for lifting, hanging, and retrieving applications. Fun searching for lost treasure in rivers, lakes, wells, canals, or ponds. It will be the 

best magnet you've ever had

. Make sure to tie the fishing magnets with rope securely.
Exceptional Quality: The Deep Water Fishing Magnet 

offers the highest performance and heavy-duty magnet

, extremely powerful magnetic force focused at the bottom with the other three segments protected by steel cup to resist rust. The round base rare-earth neodymium (NdFeB) magnet cup is made with A3 high-grade steel, and the Nickel-Copper-Nickel tough coating provides corrosion and shatters resistance.
Underwater Treasure Hunting: The Deep Water Fishing Magnet is 

designed in a way to be a great choice for those who use magnets for fishing.

Durable Design: The Deep Water Fishing Magnet features a powerful magnet with anti-corrosion steel casing which makes large fishing magnets durable against rust also helping to prevent damage from cracking and chipping while retrieving objects.
SPECIFICATIONS:
Materials:

 Neodymium, Premium A3 Steel, & Hot Melt Adhesive

Coating:

 Ni+Cu+Ni Triple Layer

Color:

 Silver
PACKAGE INCLUDE: