Say Goodbye to Cuts and Long Hours in Food Preparation!
✅
Four blades to cut vegetables multiple styles
✅
A revolutionary design in five colors
✅
Blades are Easy to Exchange
✅ This Cutter is Easy to Clean
✅
It is the Safest Veggie Cutter Ever
CUTTING VEGETABLES AND POTATOES NEATLY INTO FOUR STYLES
You no longer have to spend a long time preparing food; it's now Cut and Cooks!
Prepare your Condiments and Vegetables in a Jiffy!
This device will save you time so that you can spend more time cooking and less time chopping up veggies. Plus, it's dishwasher safe, so clean-up is quick and easy too! Your whole family will love this product because it makes eating healthy food fun again. So what are you waiting for? Get yours today!
It is Safe for Everyone to Use!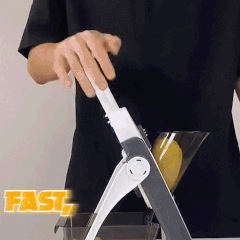 The Multi-Bladed Quad Veggie Cutter is the perfect kitchen tool for anyone who wants to cut their vegetables in different shapes and sizes. It's easy to use, fast, and fun! You can even make fries out of potatoes or carrots. And anyone can operate it too!
Beautiful Delicacies Start with How you Cut your Veggies
Benefits:
ELEVATES YOUR KITCHEN GAME 100%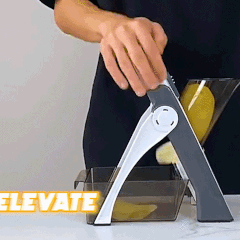 Multitasking becomes two-handed and 30 times easier when you're armed with this handy-dandy, multi-bladed veggie cutter. The four blades slice veggies in different sizes—slices, stripes, matchsticks (julienne), and dices—making food prep a breeze for anyone from cooks to kids.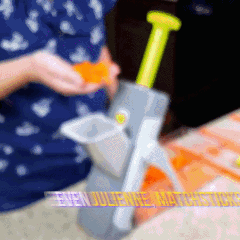 The Multi-bladed Quad Veggie Cutter is COMPLETELY dishwasher safe and comes with an attached brush so you can clean it up without any hassle. Please get rid of that embarrassing old relic in your kitchen that was unused because it made everything too hard; not anymore! Make cooking fun again with this jaw-dropper piece of equipment for all occasions. 
Say goodbye to heavy veggies and get shredding! This multi-bladed veggie cutter is the perfect tool for slicing up your cabbage, carrots, zucchini, or potatoes. You'll never look at cutting vegetables the same way again. Why bother with just one blade when you can have four! The bonus is that the Multi-Bladed Quad Veggie Cutter helps chop and slice your vegetables in mere seconds.
Tired of cutting veggies with one measly blade that gives you thick or thin slices? Our new veggie cutter will help you get it just perfect! The adjustable thickness helps slice even the tiniest fruit just 0.5 mm thin to thick 8.0mm hearty potato slices. Plus, the blades are stainless steel for maximum safety!
How to Use:
Step 1: Select the desired blade to use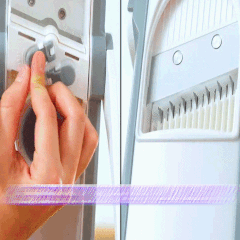 Step 2: Adjust the thickness using the knob
Step 3: Cut, Slice, and Dice away!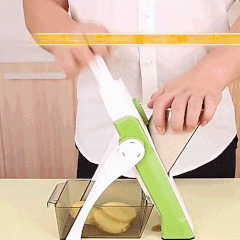 Technical Specifications:
360-degrees adjustable knob

Four blades able to cut 30 different cuts

Package Includes: 1 x Multi-Bladed Quad Veggie Cutter
FAQ:
Can you adjust the blade for slicing thickness?
Yes, you can. The thickness range is 0.5mm to 8.0mm.
Is it able to chop dried herbs like rosemary?
It can cut fleshy veggies but not dried herbs. The sticks and twigs of the dry herbs might stick to the blade and run it.
Can I use this cutter to make sweet potato slices?
Yes, you can. This device is sturdy enough to sustain the effort you will need to slice the sweet potatoes.
How do you make veggies come out in small pieces as opposed to long square pieces?
You can either slice the vegetables lengthwise before putting them through the chopper or chop them into long squares, set them on the processor, and dice them again.
Does this come with a cleaner to remove small pieces?
Yes, it does. A small brush is attached to the Multi-Bladed Quad Veggie Cutter that enables you to clean it as soon as you are done using it.