SPIN & POP your STRESS away anytime, anywhere with this pop bubble bracelet!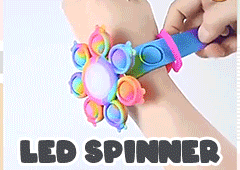 This fashionable bracelet is made with decompression silicone with poppable bubbles & a spinning flower that lets you spin & pop again and again! Relieving stress, anxiety, boredom, fatigue, and more! Features a colorful design that gives off a fun and quirky touch to your OOTD. Allowing you to be as stylish as you want while enjoying the sensory stimulation like a bubble wrap!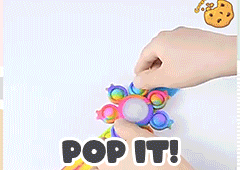 A trendy bracelet that is highly flexible to suit all wrist sizes, perfect for kids, teens, and adults. This convenient sensory toy can snug on your wrist all day long! Making it the best alternative to other fidget toys that need to be carried in a bag or pockets. Ideal for kids so they can play the day away and have fun popping without it getting lost.
Simply wrap it around the wrist and press gently the push bubbles to make a soothing sound!
Let's pop on and on to feel relaxed!
Grab yours now!
FEATURES:
Spinning LED Pop Bracelet
Stylish spinning pop bubble bracelet that also serves as a

good sensory toy.

The bracelet's

fun and quirky style

make it

easy to match with different outfits.

Making you look more interesting and charming.
Instant Stress Relief
A great decompression bracelet that helps to keep you occupied, focused, and satisfied. It makes a pleasant popping sound once pressed, producing a good sensory interaction. Let it snug to your wrist and squeeze it over and over when you want to

relieve stress, anxiety, boredom, tension,

and more!

Perfect for kids, students, business people, and those with fidget problems, anxieties, or ADHD.
Comfortable to Wear
A lightweight and

hypoallergenic

wristband that is

highly flexible

to fit comfortably to your wrist! Leaving you without the problem of unwarranted

skin irritation

after a long day of wear.

Suitable to all wrist sizes

whether it is for kids, teens, or adults!
Easy to Carry
This convenient

pop bubble bracelet

is

the best alternative to other fidget sensory toys

! No need to put it in a bag or pockets as it can snug on your wrist all day long! Ideal for kids as

it can't be lost easily

even when day play.
Wide Application
A portable single-wrap bracelet that is

water-proof and wear-resistant

. Ideal for travel, school, work, beach, picnic, party, and more possibilities! It can also be washed easily using water so you can be fashionable and have fun anywhere, anytime.
Premium Material
Made of high-quality, decompression silicone construction with a smooth surface. It Is completely

safe and is easy to wear

, ideal for your daily use. Simply wrap it around your wrist and press gently the pop bubbles if you want to relieve stress or anxiety!
SPECIFICATIONS:
Material: Silicone, LED
Length: 245mm (9.6")
Spinner Width: 80mm (3.1")
Color: Blue / Purple Yellow / Purple Blue
PACKAGE INCLUDES:
1 x Spinning Pop Bubble Bracelet