Product size
100% brand new and high quality
Installs in seconds by simply placing it on the floor and pressing the safety lock switch.
Our suction support handle can be used on any flat surface in your home. It can be used for support, lifting, opening doors, and just about anything else you can think of. Simply place the handle on the wall of your bathtub or shower. Ideal for bathtubs, showers, next to toilets, next to stairs, and next to chairs.
Not using the toilet can lead to painful injuries, especially for older people.
Change your mind about the location of the handle? Easily unlock and replace wherever you want.
The support handle has a unique suction mechanism that allows you to easily grab any smooth, flat surface in seconds.
Suction cups with foldable locking tabs provide added safety whether in the shower, bathtub or toilet. This SUPPORT handle will support you.
The delicately contoured handle provides a reliable grip. Thanks to its compact and stylish design, it is easy to carry and fits seamlessly into almost any home decor.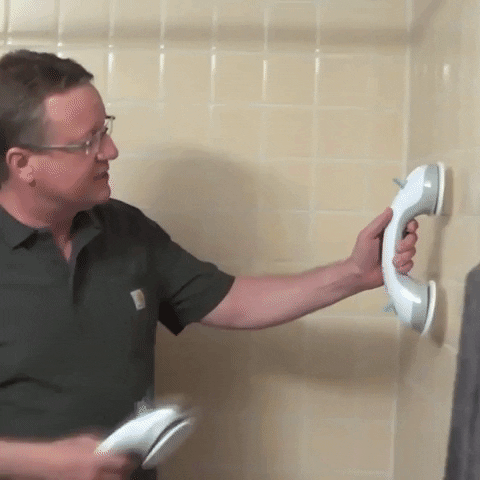 Why buy our support handle?
Sticks to any smooth, flat surface (tile, acrylic, glass, fiberglass) in seconds.

Suction cup with foldable locking tab.

Will not damage walls.

Increase safety and increase safety.

You can carry it wherever you need it.
How to use the suction support handle?
Please make sure the area where you install it is very clean and dry for the best stability and suction effect.

Always check that the handle is installed correctly before use.

Support handles can be reattached anytime and anywhere. If the cushion becomes dirty with dust, wash it with water. After drying, it can be safely put back together.
Suitable for various places (toilet, bathtub, shower, etc.).

And it can help a wide range of people (including the elderly, children, and people with motor disabilities).
explanation:
Material: PP
Color: Gray
Size: 30*10.8*9.5cm