Micro CPAP Sleep Apnea Device for Travel and Snoring - CPAP Alternative
Traditional Sleep Apnea Machines CPAP machines have been used as a long-term solution to sleep apnea. But unfortunately, they have become synonymous with a poor sleep experience. Amazingly, 80% of users abandon their machines after just a year because the masks are too tight and uncomfortable and the cables are bulky. Fortunately, there is hope on the horizon. People no longer have to endure such worries.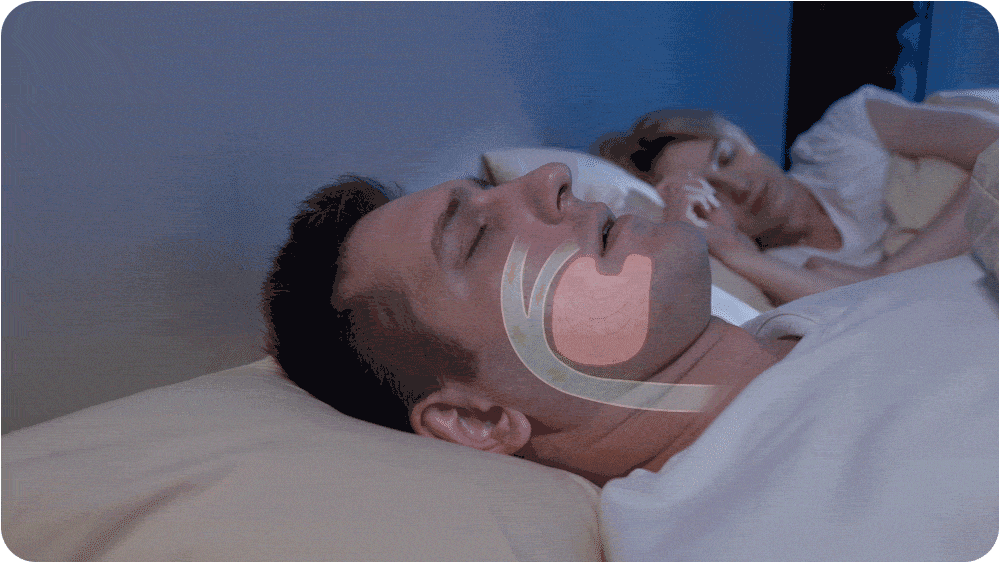 Introducing our anti-snoring device, an innovative way to treat sleep apnea without CPAP. This anti-snoring device is designed to reduce snoring and help you sleep peacefully.
Our new mini CPAP device uses gentle electrical signals generated by a microprocessor to create micronasal pressure that can open airways and restrict or block breathing. Families no longer have to ask, "Did someone wake you up?"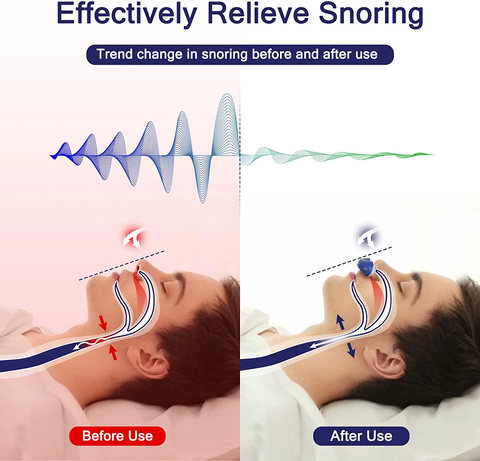 The great thing is that our maskless CPAP is lightweight and easier to carry than other sleep apnea devices. So why settle for anything less Choose our new sleep apnea device for a quality night's sleep with even more peace and quiet. Order now and sleep better tonight.
HIGH QUALITY MATERIAL - Our medical grade silicone gel is hypoallergenic and safe to use. It's latex-free, making it ideal for those with allergies or sensitivities.
Portable and Convenient – ​​This mini CPAP device is small enough to fit in your pocket, so you can take it anywhere.
COMFORTABLE WEAR - Our soft silicone buds are designed for a snug fit and shaped to last all night. You'll even forget you're wearing it!
Silent CPAP Therapy - This device provides silent CPAP therapy so you can finally get the restful sleep you need.
No more batteries needed. -Unlike other he CPAP devices that require batteries, this sleep apnea device charges directly from your computer or USB charger. So you don't have to worry about power shortage.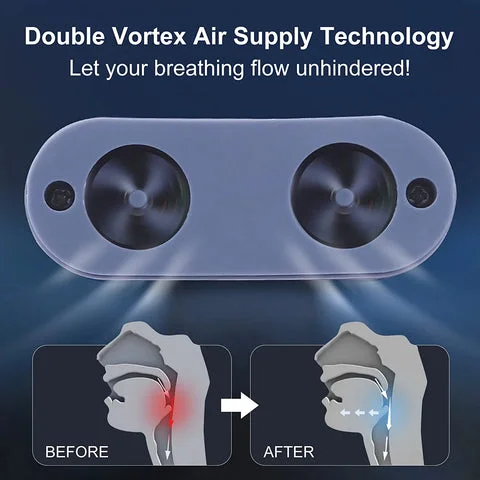 Ventilation: The first hoseless, maskless, micro CPAP
Traditional CPAP machines can alleviate sleep apnea, but poor design has led sleep apnea patients to abandon their machines. 80% of CPAP users stop using their machine within one year. Airing aims to change this with an innovative design that works just like any other device, without patients having to deal with complicated and uncomfortable masks.
Another reason why patients give up on traditional CPAPs is that they are very difficult to clean due to their large size and can get dirty and need to be cleaned regularly. This is not the case with ventilation. Ventilation is short and cleaning is too easy. Each air ring tool is designed to last 6-12 months and is recyclable. As a result, you will have a lighter tool every night. Additionally, the breathability also saves you from uncomfortable strap "mess" and the noisy hum that comes with different tools.
Ventilation: The first hoseless, maskless, micro CPAP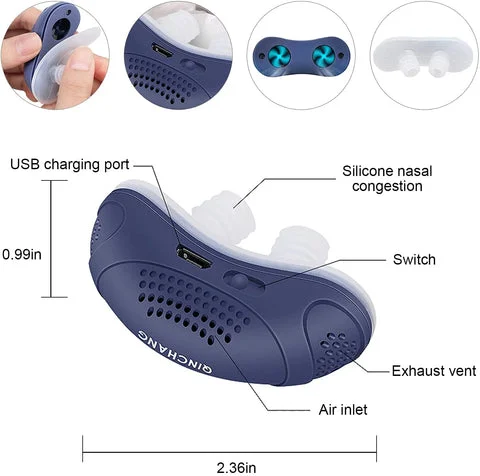 Ventilation: The first hoseless, maskless, micro CPAP
Air devices are a combination of many inventions, the most notable being the microblower, which was originally designed to apply heat to computer chips. These micro blowers are completely self-contained within the ventilation tool, eliminating the need for external air hoses. Just turn on the soft buds in your nostrils and breathe throughout the night.
If you're cycling through certain stages of sleep, it's difficult for a CPAP mask to keep a tight seal on your face. The sound of rushing air is not the most effective and will also wake up your partner. The hoses used in CPAP masks can trail around your desk or bedside, disrupting your sleep. However, ventilation creates a good, healthy inside nostril without the need for a hose to trap anything. It gets even better when the noisy night breathing goes away.
Ventilation: The first hoseless, maskless, micro CPAP
Ventilation: The first hoseless, maskless, micro CPAP
Think of how much relief you'd feel if you got hundreds of quality nights of sleep instead of just one. Think about how much relief you'll feel after not just one night of good sleep, but hundreds of good nights. Think about avoidable health problems. Think about the energy you get. Think about how much more productive he could be at work, how likely he would be in a car accident, or even how he could reduce his golf handicap by three strokes. So just think about the freedom he will experience when he starts using Airing to manage his sleep apnea.
Ventilation: The first hoseless, maskless, micro CPAP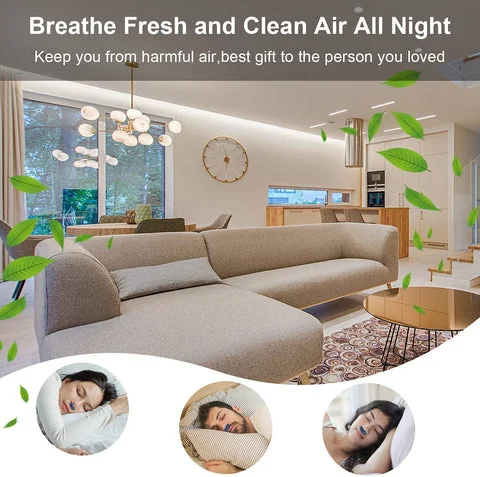 Ventilation: The first hoseless, maskless, micro CPAP
function
PREMIUM MATERIALS: Our anti-snoring device is made from the highest quality materials on the market. This product is strong and durable, unlike commercially available imitation devices that are made for single-use use.
ULTRA PORTABLE - TAKE IT ANYWHERE: Micro CPAP is designed with convenience in mind. Its compact size makes it the perfect solution for air travel.
EXTREMELY COMFORTABLE FIT: The sleep apnea device has a super soft silicone nose pad that fits perfectly into your nasal cavity. When I wear it to sleep, I hardly notice it.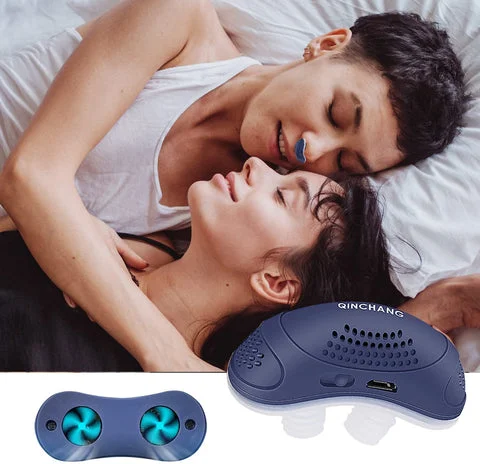 Ventilation: The first hoseless, maskless, micro CPAP
How to use
When we sleep, our muscles relax even more, causing them to tense and sometimes even close temporarily. When air passes through a minimal opening, the tissue surrounding the opening may vibrate, causing the sound of snoring.
Specially designed anti-snoring vents effectively expand the nostrils, allowing air to pass through more efficiently. A powerful electric pump ensures efficient air flow. Restful sleep and smooth, clean breathing are no wonder. Battery life on a full charge cycle is 8-10 hours, perfect for your average sleep cycle.
question
Can this device effectively treat oral snoring?
The Airing Snoring automatic strength solution is designed to provide continuous positive airway pressure treatment for oral snoring.
Can it be used for airplane travel?
Yes, you can use Airing for air travel.
Can I use the air ring if I sleep on my side?
Yes, you can use the air ring even if you sleep on your side.
Can I use the air ring while sleeping?
Yes, you can use the air ring even if you sleep on your back.
How long does the battery last?
Ventilation can be used for up to 8 hours after charging, so you can get a good night's sleep.
What if it doesn't suit me?
We offer a 30-day money-back guarantee, so you can try Airing risk-free.
specification
Material

ABS

Material

ABS

color

green

color

green

function

CPAP, snoring aid plug, PM2.5 filter

function

CPAP, snoring aid plug, PM2.5 filter

Package includes:

1x Micro CPAP electronic anti-snoring device

1 x USB data cable

1 x User manual
Our warranty
• Worldwide Insured Shipping: All orders include real-time tracking information and insurance against lost or stolen packages in transit.
MONEY BACK GUARANTEE: If your item is damaged or defective within 60 days of normal use, we will happily replace or refund your money.
✉️ 24/7 Customer Service: We have a team of representatives available 24/7 to answer all your questions.
• Safe and Secure Checkout: We use state-of-the-art SSL secure encryption to keep your personal and financial information 100% safe.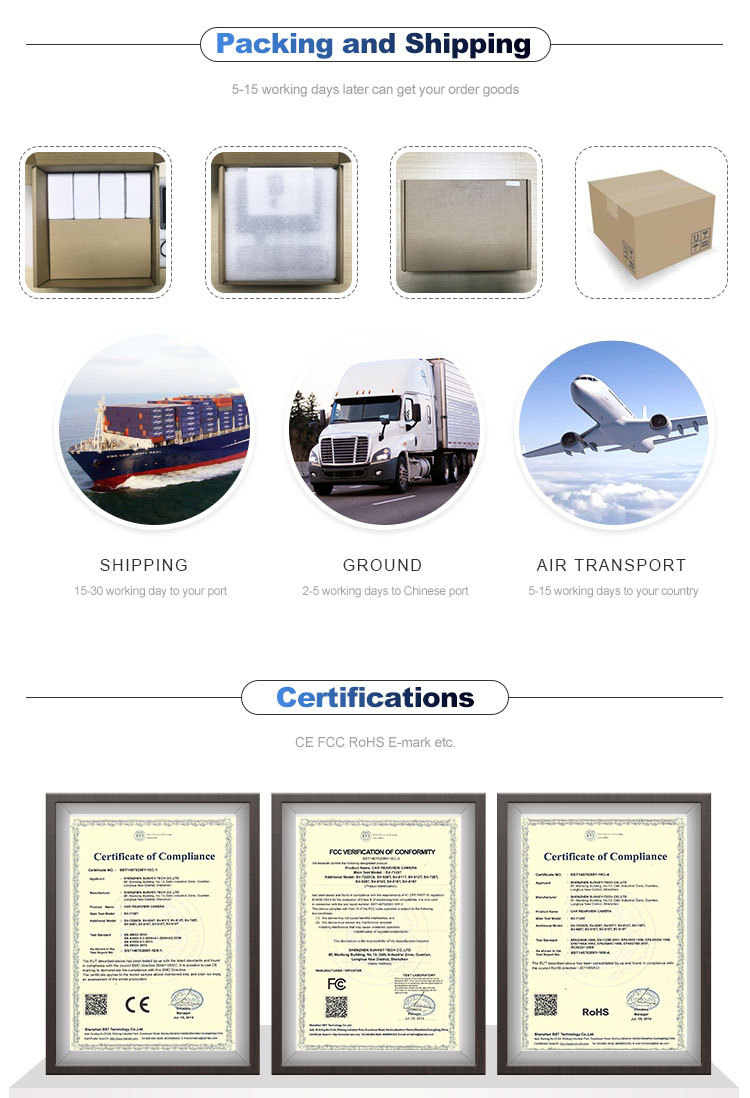 100% risk-free purchase
Don't worry if you buy one and find it's not right for you. Send us a message at ueu@ueuhk.com. We will respond appropriately by offering a replacement or refund. 100% simple and risk-free process.

After-sales service
Dear customers, buy your product here and try it for 60 days from the comfort of your home.
If you are unsatisfied for any reason, please return your item within 60 days.
We ship to 127 countries including the United States, California, Australia, and all European countries .
We believe we have some of the most innovative products in the world, and we want to back this up with our 60-day risk-free guarantee.
If for any reason you are not satisfied, we will do everything we can to make sure you are 100% satisfied with your purchase .